As part of our ongoing series interviewing the current crop of mobile filmmakers making a name for themselves in the world of indie film, we'd like to introduce you to Beraat GÖKKUŞ. Beraat's recent short docudrama, THE LOST PEN, won three awards, including Best Film, Best Director, and Best Actor at the prestigious SmartFone FlickFest (SF3), Australia's International Smartphone Film Festival. We hope you find both insight and inspiration in the following interview!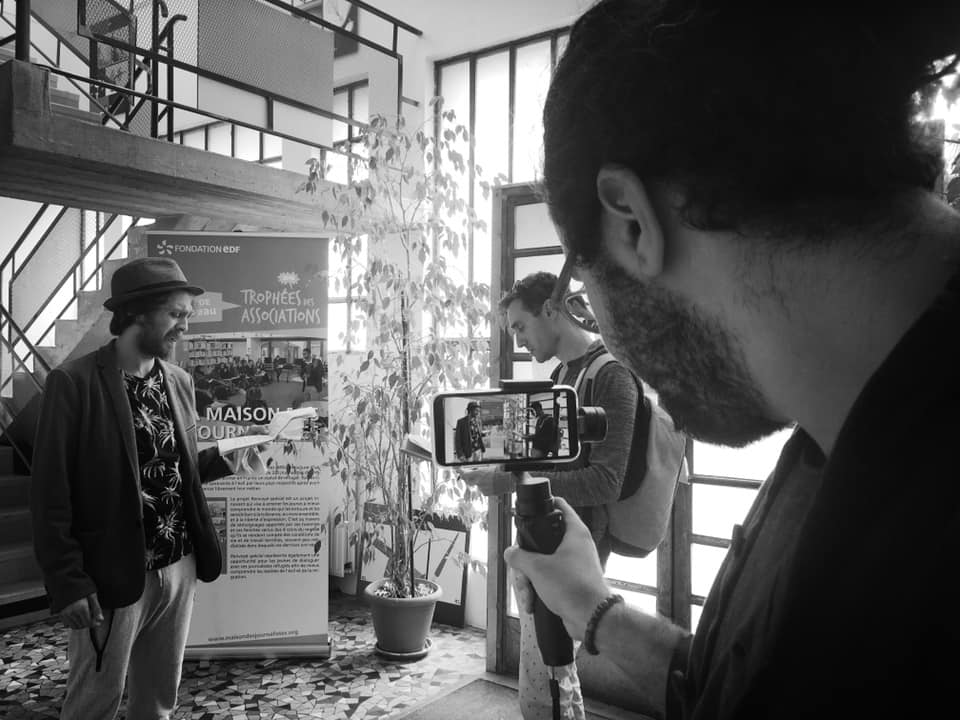 1) What drew you to the story and compelled you to make your film?
I wrote the screenplay of this film when I was personally living in "La Maison des Journalistes" as one of those exiled journalists. So, this story is very personal too. It's from my life experience. As a Turkish filmmaker and journalist unfortunately I know very well what does it mean the lack of freedom of speech and freedom of the press.
If we talk about the structure of my story first of all I have to say that the places are always have a big influence on me when I create my stories. I ask the questions that "What story can tell from this place. And how I can tell it in this place ?" Those were also key elements of The Lost Pen short film.
The other thing, if I do a film I like to challenge my self about the structure of it. The structure of the film should be suitable to the story of the film. That's why The Lost Pen is one long take without any cut. Some level of this film is about remembering or not forgetting something, some words. So it's about real-time. I mean I wanted that the time that passes in the film and the time to watch it, to follow it, is the same. Otherwise, who knows what is "real-time".
2) What prompted you to make the decision to shoot your film with Filmic Pro on a smartphone instead of a traditional camera, and was this your first experience using our app?
Honestly, it was the question of budget. I had no money to rent that famous so-called "filmmaking cameras." But, I had a great story. So what you should do with a great story but no budget? Well, you check your pockets and there I am sure you will find a camera which is enough to make a movie.
It was not my first mobile film. But it was my first Filmic Pro used film. I used Filmic Pro because it elevates your smartphone camera to a more professional level. Especially for framing, lighting, and focus.
3) Please describe the experience of shooting your film with mobile devices and Filmic Pro.
In my work, realism is very important. Actually, I do not do it on purpose but when I looked back in every film that I did, even it's a music video, there are parts of real life on a documentary level. It comes from my nature I think. In this case, smartphones have a lot of advantages. For example, when you film in the street you don't get a lot of attention. Nobody cares about you. And it gives you chance to work with a little team. And I prefer it.
In Filmic Pro first of all I love the "Guide" option. It helps a lot to me in a very easy way when I create my "mise en scene" as a director. And, of course, exposure and focus options of Filmic Pro are very crucial for my works.
But here I should also talk as a mobile journalist because for 2 years I do always my video interviews with Filmic Pro. During interviews with Filmic Pro, you have the chance to see the sound level just on your smartphone screen. This is game-changing. And this new DoubleTake option is magic. I have iPhone Pro 11, so four camera angles options. With the DoubleTake application, only one smartphone is enough to film the interviewer and the guest at the same time from two different angles. For journalists, especially freelancer mojos who have not much budget like myself, this is fantastic.
4) What did shooting on a smartphone allow you to do that you otherwise couldn't?
There is a new streaming platform called "Mobile Film Stories" for mobile films. I hope to be there soon with my award-winning films. If you get bored and you think that you watched all films on streaming during coronavirus lockdown days I suggest you check out what independent mobile filmmakers doing out there.
You can find me on IG as @rookieskybird. I share all news about my projects. And if you like to have some Turkish sentences on your Twitter timeline come to my Twitter account which is @BeraatGokkus.
Right now I am looking for producers for my new short/medium-length film. It's a black and white/color film noir set in Paris. And I am waiting to restart to film my documentary about black jazz musicians who lives right now in Paris. Because coronavirus, bars, and concert places are closed, so I stopped that project.
5) Where has your film screened to date? Where can people see it next?
My film screened at SF3 Smartphone Film Fest 2020 and won the Best Film Award, Best Director Award, People's Choice Awa and Best Actor Award for Ali Alwani.
The Lost Pen was also selected for the African Smartphone Film Festival 2020 and won the Grand Jury Prize. The Lost Pen also screened at IOM Global Migration Film Festival 2020 Local Selection in Indonesia, Jakarta, One Take Film Festival 2020 in Croatia, Zagreb, and Kathmandu World Film Festival 2020 in Nepal. The Lost Pen will screen at Dublin Smartphone Film Festival 2021, Dhaka International Mobile Film Festival 2021, and Kalamkari Film Festival (India) in 2021.