For those unfamiliar with SXSW (both the official and colloquial acronym for South By Southwest), the festival had modest roots in 1987 when Roland Swenson and Louis Black, both employees of Austin's alternative newspaper The Austin Chronicle, collaborated with fellow publisher Nick Barbaro and artist manager Louis Jay Meyers to discuss creating a showcase event for Austin's creative and musical talent. Swenson and Black felt that Austin's creative and music scene was pound-for-pound as good as anywhere in the world but just needed to be discovered
The initial plan was to become a "Southwest" extension of New York City's existing New Music Seminar festival through a joint partnership, but those plans fell through. Swenson and Black decided to create an entirely new and distinct event. Black came up with the South By Southwest event name as a playful twist on North by Northwest, a classic 1959 film by famed filmmaker Alfred Hitchcock. Rather than venturing outside of Austin for exposure or tethering itself to an existing event, it was decided that an event was to be held locally.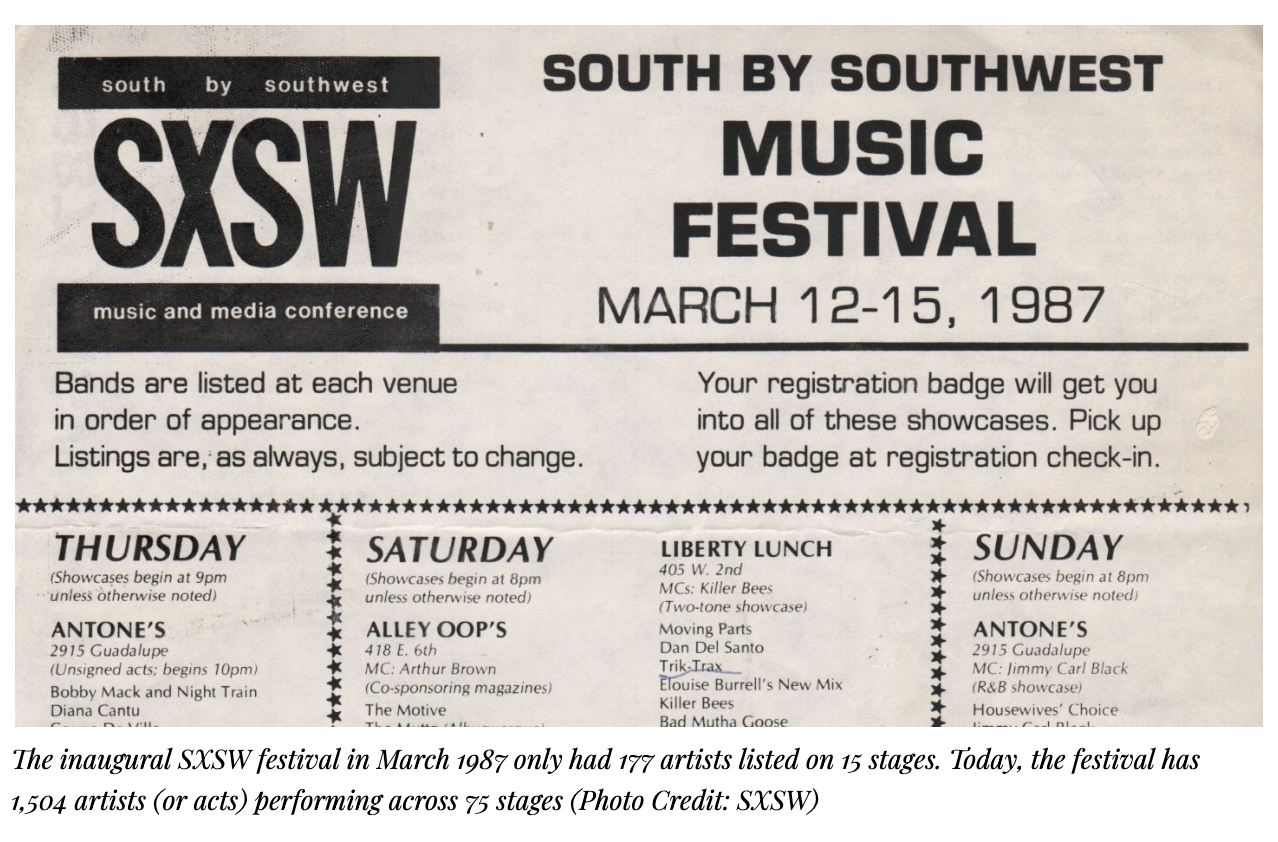 Swenson and Black only expected 150 people to attend the first SXSW festival in March of 1987, but over 700 people surprisingly showed up on SXSW's opening day in Austin. In 2022 alone, over 205,000 attendees from 112 countries worldwide poured into the Texas capital city for SXSW. The festival has evolved beyond music by adding a film, interactive, comedy, and education component to the festival over the years. It's increasingly become a "must-attend" event for creative professionals, music enthusiasts, and even techies.
While SXSW has grown in scope and attendance, the core mission and legacy set forth by Swenson and Black remains delightfully intact – a place for creative talent from any palette to be discovered and to help achieve their aspirations.
SXSW is still a serendipitous launchpad for many facets of tech, music, and film that have over the last 36 years grasped the cultural zeitgeist of the times.
In 2007, a geeky group of four techies led by a young man named Jack Dorsey introduced a new product called Twitter at SXSW's interactive showcase. Struggling to gain traction before the festival, Twitter gained much-needed publicity from SXSW allowing the messaging service to generate 60,000 tweets in a single day, creating the initial escape velocity for Twitter to eventually get to its peak of 336 million monthly active users.
Two years later, another fledging startup named Foursquare led by Dennis Crowley and Naveen Selvadurai got its day in the sun at SXSW, getting the initial user traction bump and publicity to help Foursquare raise millions of dollars from venture capitalists and to continue fostering its growth.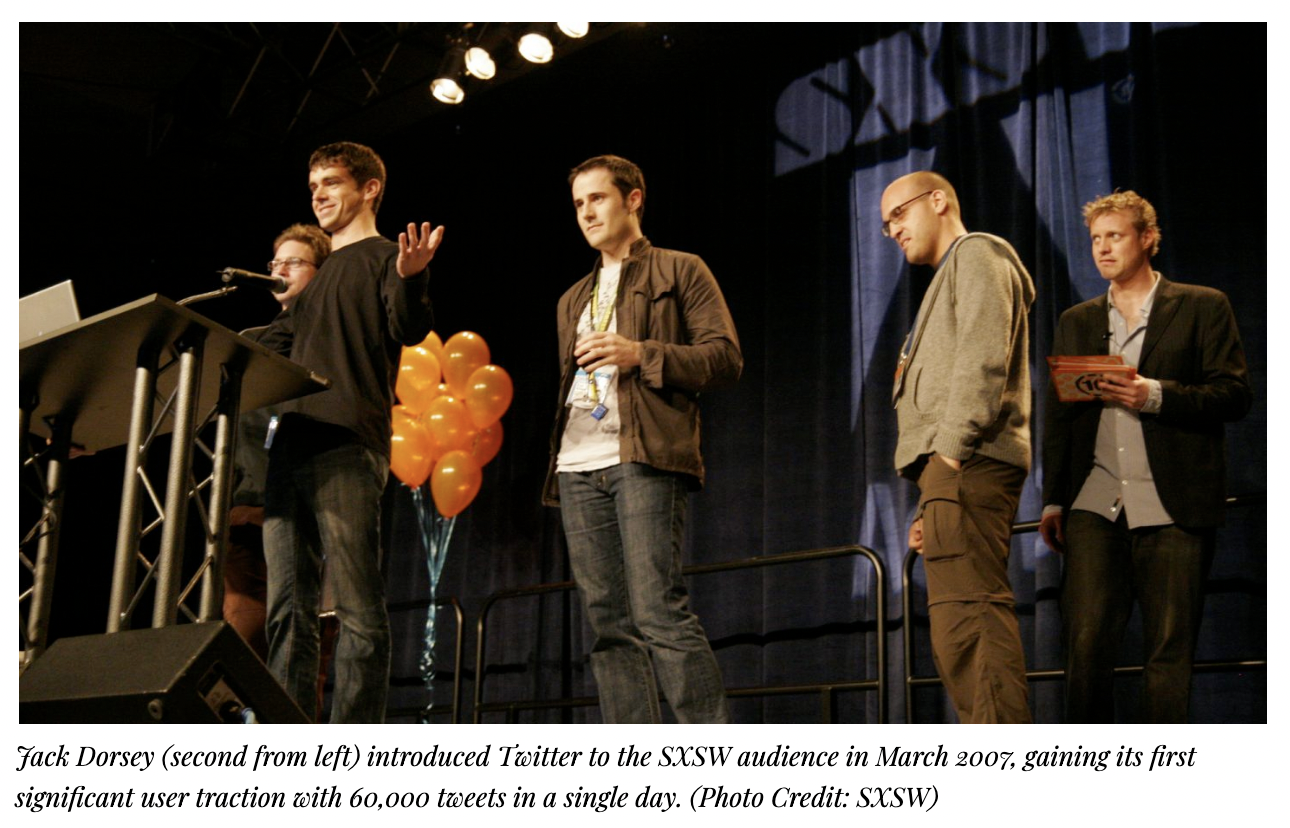 Tech companies are not the only beneficiaries of the serendipitous SXSW launchpad effect. Musicians can also point to SXSW as a critical inflection point on their path to mainstream stardom during their careers. In 1994, a group of three young brothers calling themselves by their family surname, Hanson, performed at SXSW at the urging of their father and was discovered and signed by manager Christopher Sabec.
Hanson went on to "MMMbop" over 16 million records sold with three Top-20 U.S. albums. Ever heard of these musicians as well? John Mayer (2000), The White Stripes (2001), Norah Jones (2002), Franz Ferdinand (2004), Katy Perry (2008), Bon Iver (2008), Skrillex (2010), and Ellie Goulding (2011). All of them debuted at SXSW as relative unknowns and soon became stars after their respective SXSW debut performances.
The Film Festival component of SXSW was added in 1994. Initially viewed by film industry pundits as a test tube particularly for comedy films to gauge live audience resonance and laugh propensity, the SXSW film festival (now officially re-branded as the Film & TV Festival in 2023) has since evolved to become a significant film festival in itself with six different competition categories.
Several films that went on to either box office success or critical acclaim can trace their roots at SXSW including Fast and Furious 7 in 2015 (the highest-grossing SXSW film ever with $1.5 billion in box office receipts since its SXSW debut), Bridesmaids (2011), and Keanu (2016). One of the most recent films to perform well at the box office was John Krasinski's A Quiet Place, which debuted at SXSW in 2018 and has since grossed $341 million to date.
In 2022, SXSW received 6,564 film submissions from 37 countries, and 230 films (98 features and 132 shorts) were screened at the festival.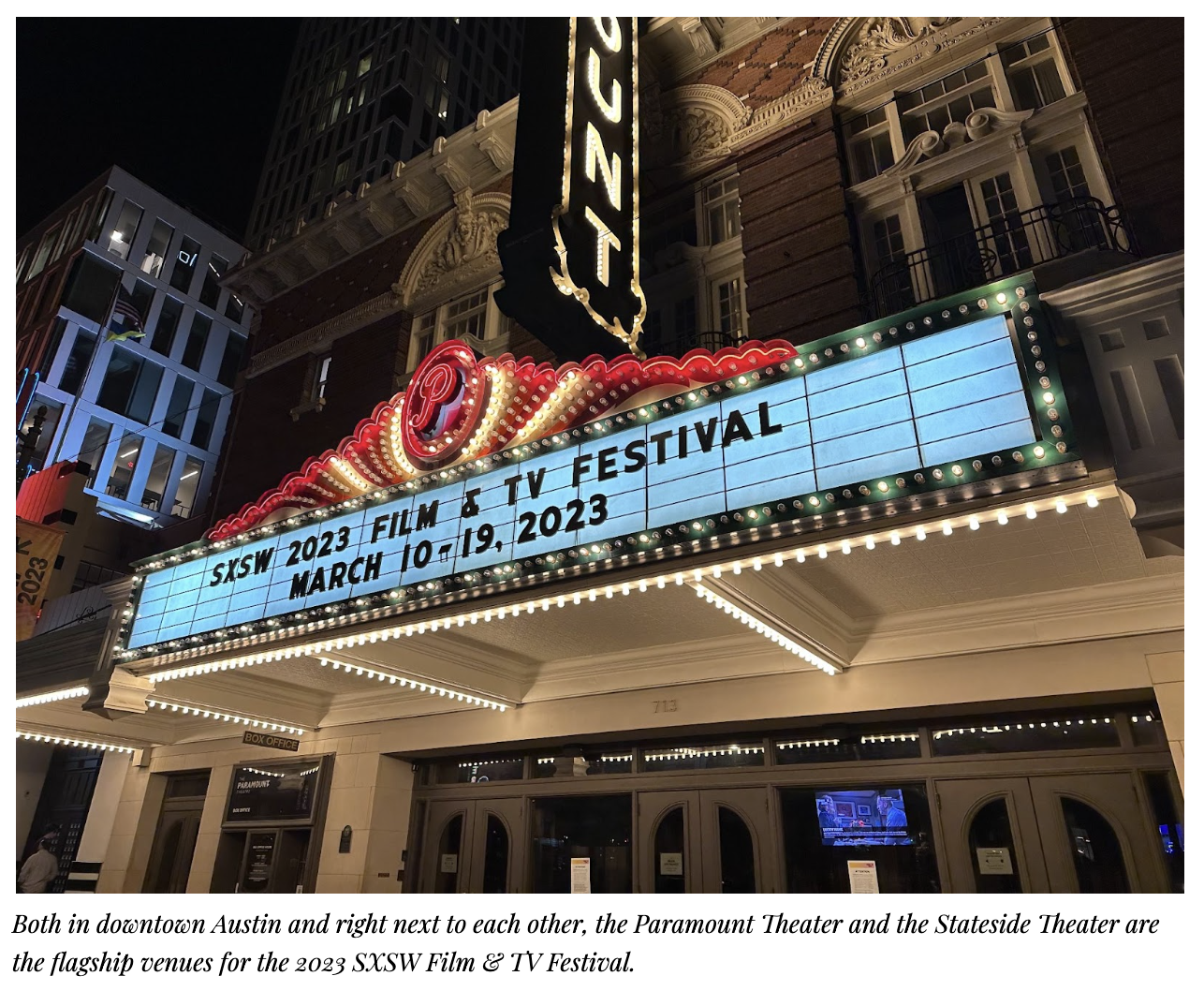 One of the great SXSW filmmaker launchpad stories was none other than Matthew A. Cherry. A former professional NFL football player who retired in 2007, Cherry aspired to be part of the film industry, toiling as a production assistant while learning the filmmaking craft and paying his dues. After several years of experience including directing music videos, Cherry debuted his first feature film at the 2012 SXSW film festival titled The Last Fall. While the film received minimal acclaim, Cherry learned from the experience and continued building and refining his storytelling craft. 
Leveraging his curiosity for technology and experimenting out of necessity as he continued struggling to secure traditional production resources, Cherry elected to try something new in 2016. He chose to shoot an entire feature film with an iPhone 6S (the first iPhone capable of shooting in 4K resolution) and the Filmic Pro app. What resulted from the experiment was the feature film 9 Rides, which was accepted into the 2016 SXSW film festival. The film was well-received and continued the momentum building for Cherry's filmmaking skills and reputation. Equipped with the learnings from his SXSW experience, Cherry would embark on his next project that would change the course of his filmmaking career forever. Watch the trailer for 9 Rides below.
In 2017, Cherry started a Kickstarter campaign to raise $75,000 for a new animated short film called Hair Love, to explore and debunk stereotypes around African American fathers and their relationship with their children. Cherry went on to raise $284,058 instead, and Hair Love was ultimately picked up by Sony Pictures Animation in March 2019 and shown alongside its other full-feature theatrical releases that year. Cherry went on to win an Oscar in 2020 for Best Animated Short Film with Hair Love. HBO Max has since commissioned Cherry to continue Hair Love through a 12-episode series titled Young Love and slated to be released in 2023. In addition, Cherry signed a first-look deal with Warner Bros. Television Group and is set to direct a new comedy heist film titled The Come Up.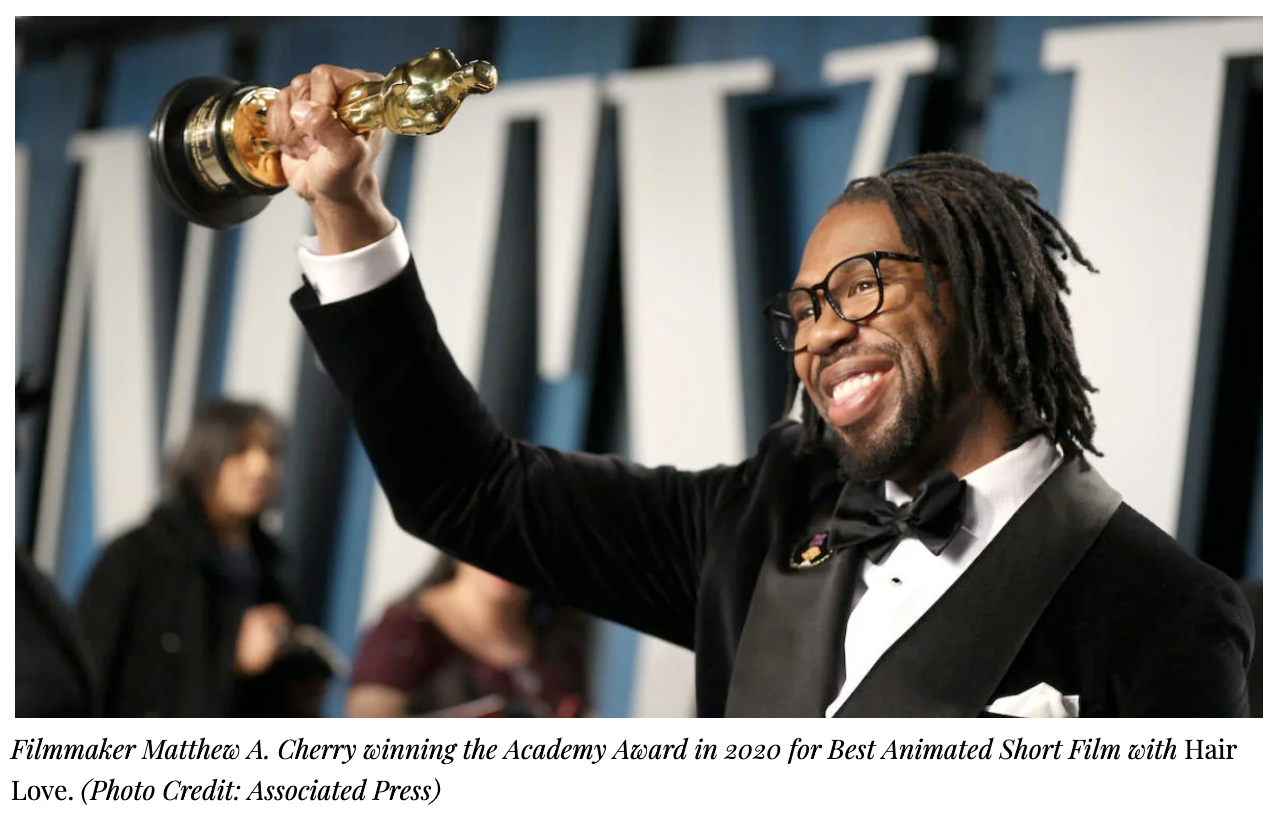 These case study stories of discovery and stewarding of creative talent to greater heights are the reasons why SXSW is a beloved festival. Creativity can manifest itself in all sorts of ways, and SXSW is designed to capture glimpses of creativity finding its way, whether through technology, music, film, or a combination of each. You just don't know when serendipity and opportunity will collide and shoot up the SXSW launchpad.
While some might argue that SXSW has become too commercialized or forced in recent years, many still hold out optimism and hope that the next generation of great musicians, tech entrepreneurs, and filmmakers will continue to get discovered at SXSW and lifted up to achieve their goals and aspirations. Look no further than the film Everything Everywhere All At Once, which won seven different Academy Awards in 2023, including Best Picture, Best Director, and nearly sweeping all the major acting categories (Best Actress, Best Supporting Actor, and Best Supporting Actress). The film premiered at SXSW in 2022.