Photojournalist Stefan Stifter gets his assignment at 3 am every morning from the news desk of KGO-TV (ABC7), the second-oldest television station serving the San Francisco Bay Area. His assignment of the day was to head to San Francisco International Airport with KGO-TV reporter Amanda del Castillo to cover the severe nationwide delays and cancellations crippling United Airlines before the busy Fourth of July travel weekend. A record 2,883,595 travelers screened past airport checkpoints across the country on June 30, the single busiest day in history according to the Transportation Security Administration. 
When Stifter arrived in front of Terminal 3, though, he wasn't lugging a traditional video camera or industrial tripod. Instead, he simply unpacked his Apple iPhone 14 Pro (loaded with Filmic Pro v7), Beastgrip Pro camera rig, Rode microphone, and DJI Osmo gimbal, all of which could fit into his jacket pockets. "That's it?" I asked. "Yup. That's it," Stifter quipped with a smile.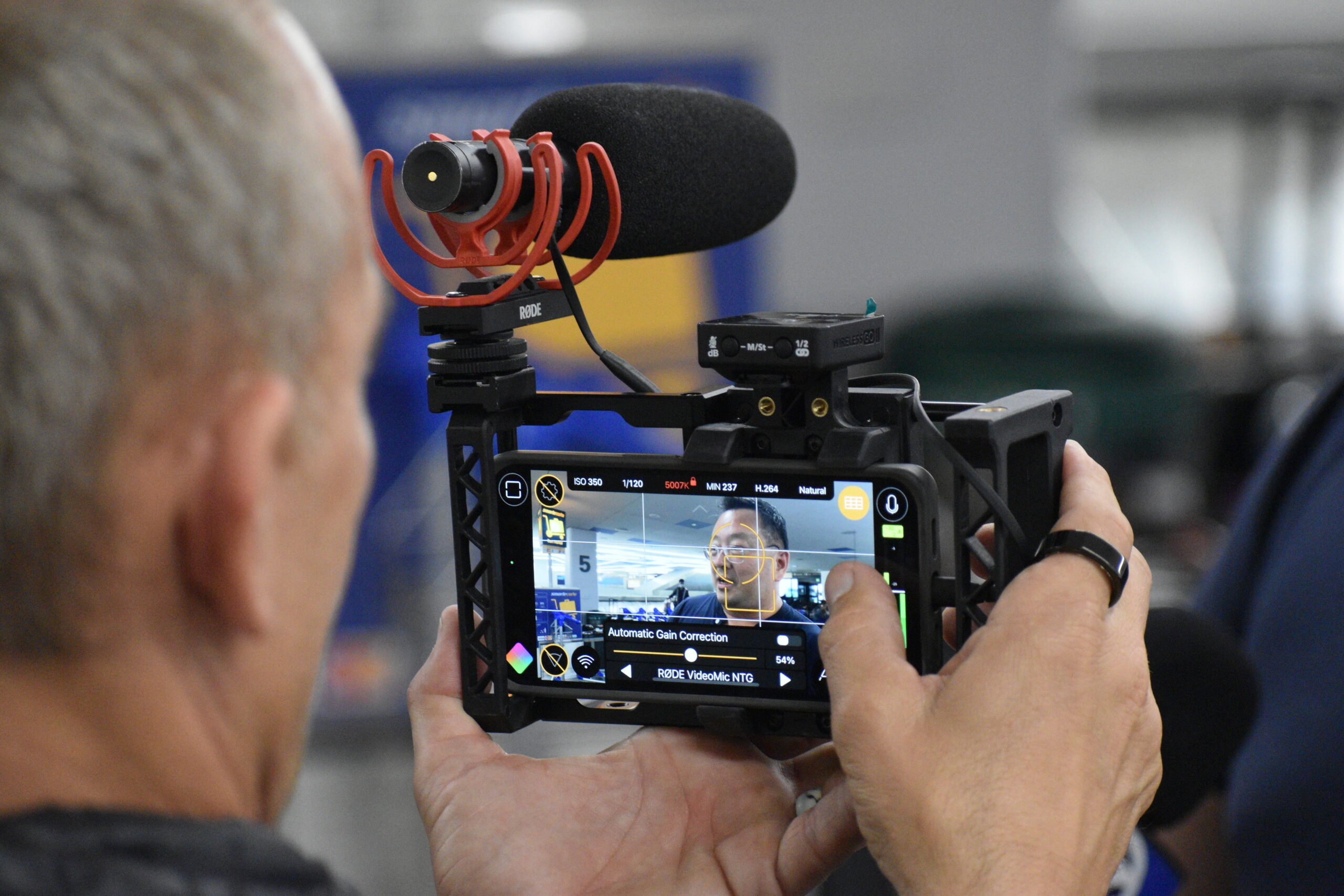 Photojournalist Stefan Stifter (left) recording an interview with a stranded United Airlines passenger with Filmic Pro v7 for the KGO-TV ABC7 morning news segment.
"I don't have to think as much about other things like the equipment getting stolen or contemplating where to place the camera. I can just focus on capturing the story.

" –

Stefan Stifter
Stifter began shooting various b-roll video clips with Filmic Pro v7 for the news assignment to capture the United Airlines meltdown, ranging from timelapses of the airport terminal facade to the heaps of lost luggage accumulating in the baggage claim area. As del Castillo began interviewing stranded passengers, Stifter was immediately ready to capture the first-hand testimonies of bewildered and frustrated passengers.
Originally from Austria and working with KGO-TV since 2003, Stifter began using Filmic Pro on a full-time basis last year for all news assignments. The turning point came when Stifter was covering the sentencing hearing of Theranos founder Elizabeth Holmes, where shooting with Filmic Pro and a mobile phone came in handy when the assignment required constant displacement in front of a chaotic courthouse.
Stifter was originally attracted to the Filmic Pro app due to the more granular audio control and monitoring available compared with the native iPhone camera app. He also touted the flexibility and versatility of covering breaking news with mobile phones and the precise controls offered by Filmic Pro. It made his job easier by having less to worry about to get in position for the critical shot that may come at a moment's notice.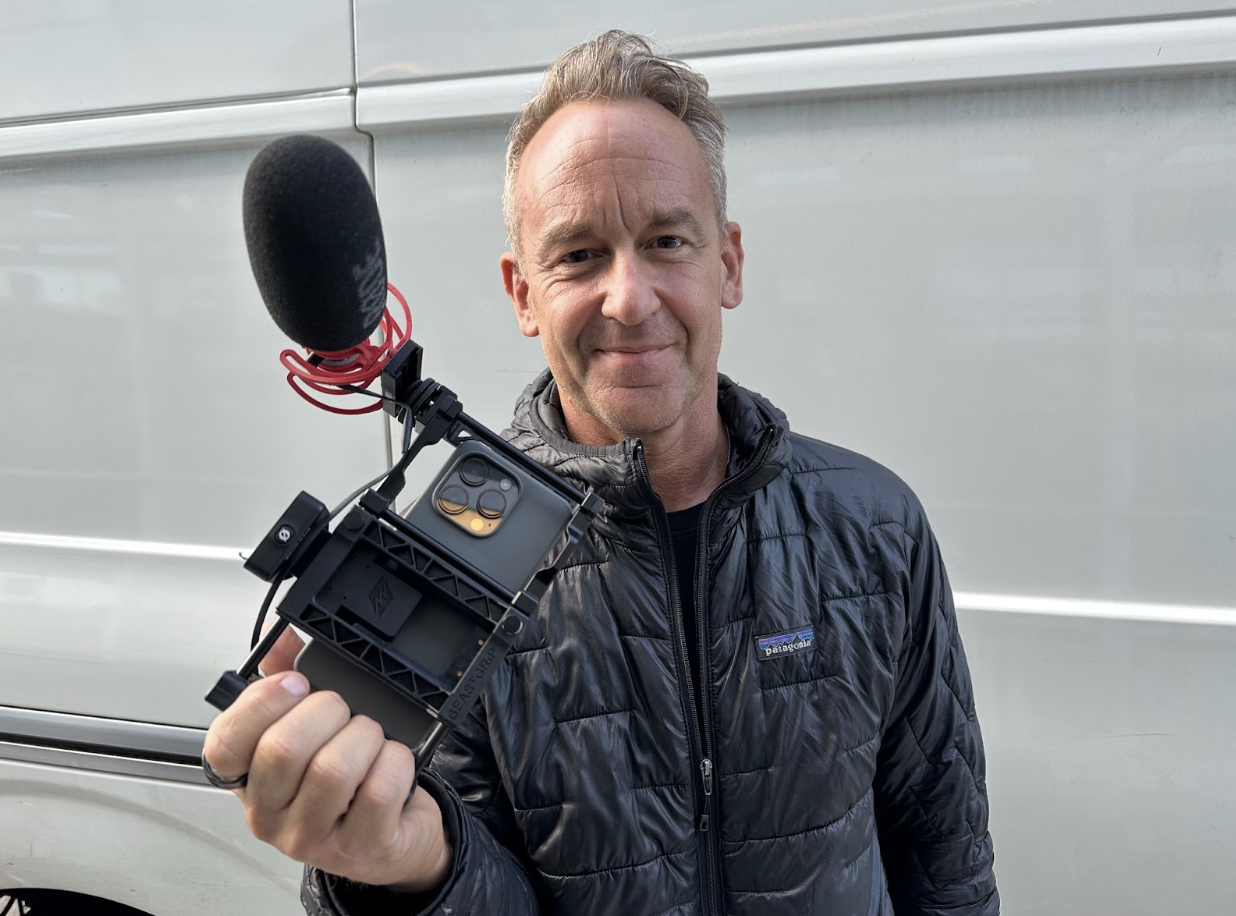 Stefan Stifter (pictured) has been working with KGO-TV since 2003. He has been using the Filmic Pro app full-time to cover all daily news assignments since 2022.
Security has also been a surprise benefit with Filmic Pro and mobile devices in the traditional news setting. Ken Miguel, Special Projects Producer at KGO-TV ABC7, described various teams of Bay Area news crews utilizing traditional news equipment getting attacked, robbed, or both during assignments within a city that has seen increasing lawlessness and crime. 
It's not uncommon now for news crews to bring a security escort while on assignment. "The mobile phones gave us a lower profile," said Miguel. "That made it a lot easier than using the [big traditional] cameras because those cameras were getting stolen or our trucks were getting vandalized. We'd have to put up a helicopter and search with GPS to try to recover the cameras. If we lost a phone, it's still bad, but not as big of a loss as a $35,000 camera."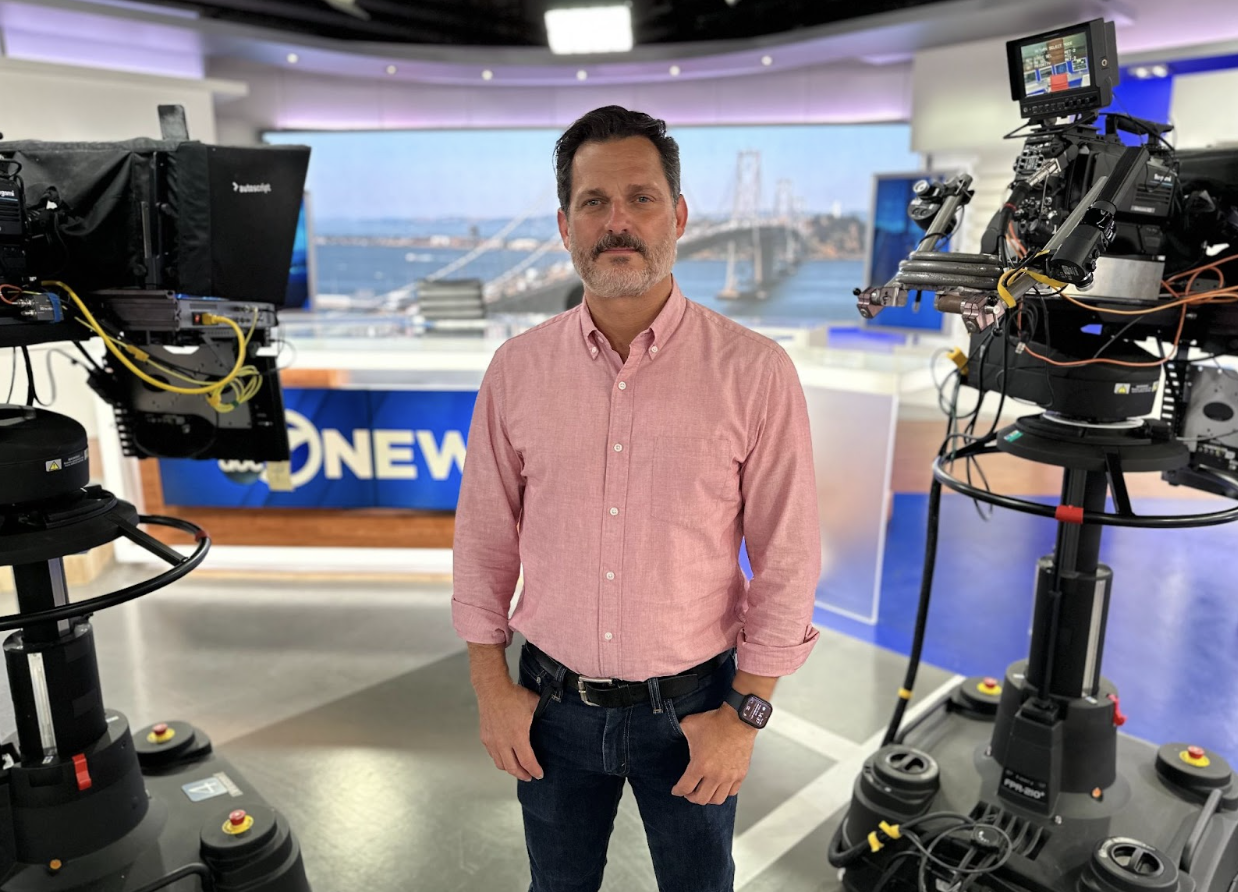 Special Projects Producer Ken Miguel (pictured) has been with KGO-TV ABC7 since 1994 and won multiple Emmy awards during his career. He is a big proponent of Filmic Pro use within the news industry.
"The [mobile phones cameras] are getting nearly as good as the big cameras now for much less money. It's a tenth of the cost and we can give mobile phone cameras to anybody and not worry as much about training and maintenance.

" -Ken Miguel
Miguel has been with KGO-TV since 1994, working in virtually every part of the newsroom during his career (he even holds the title of Chief Drone Pilot at ABC7) and winning multiple Emmy awards for his multifaceted work. Having seen all aspects of the newsroom and its evolution, Miguel has been one of the primary evangelists and proponents for Filmic Pro use since 2018. In collaboration with KGO-TV's engineering department, Miguel helped procure the 16 mobile phone kits (all equipped with Filmic Pro) that are currently available for use at KGO-TV.
When asked if traditional cameras and news trucks were potentially becoming obsolete, Miguel conceded that, "I think the trucks that we have are probably going to be our last trucks for a while." He even praised the significant rate of video fidelity improvement on mobile phones.
Miguel and his KGO-TV colleagues have also been using Filmic Pro to film and produce long-form original documentaries, some of which have recently focused on San Francisco's fentanyl epidemic (responsible for 75% of all drug overdose deaths in the city). Using Filmic Pro and mobile phones enabled them to enter taboo areas with more ease, lowering the barriers and decreasing hesitation among both drug users and dealers to be interviewed for the project, allowing for a more intimate and compassionate approach to documenting a problem plaguing hundreds of people.
While security, cost, and convenience were compelling value propositions to evangelize within KGO-TV to increase Filmic Pro usage, Miguel is still keenly focused on protecting journalism's core tenant – the power of storytelling. Miguel is delighted by how using Filmic Pro helps bring out more authenticity from its video subjects.
"You have a camera person and you have a reporter. You also have this giant [camera] pointing right at you. That's intimidating. Having a mobile phone there instead creates an intimacy in a way that we didn't expect. People relax. [It] makes a big difference.

" -Ken Miguel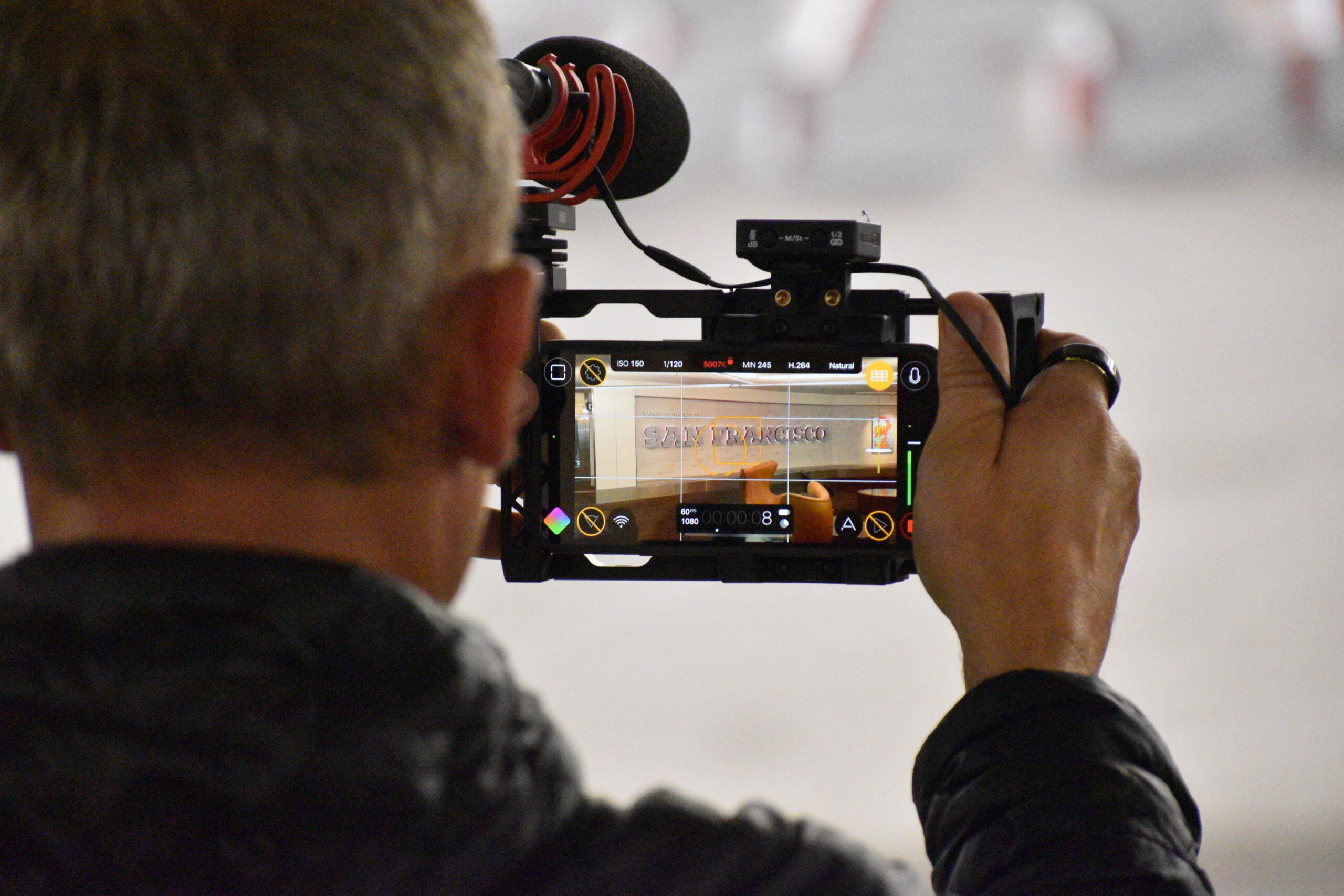 Stifter (left) shooting b-roll segments at San Francisco International Airport. Filmic Pro v7 is not only being used by KGO-TV in San Francisco, but across news and journalism organizations throughout the world.
Outside of KGO-TV, Filmic Pro is increasingly being utilized by news and journalism organizations around the world, from BBC, CNN, Australian Broadcasting Corporation, and various regional news outlets across Europe. While Filmic Pro has been gaining more adoption in traditional news settings, there is still reluctance among some in the industry who feel that mobile phones lack the credibility afforded by more traditional "big" cameras. Miguel understands this sentiment but also knows it needs to be overcome. He believes that things are changing and that regardless of device, good storytelling always wins. "Storytelling with mobile phones is so much different than storytelling with the big camera."
Here is the final news segment shown on KGO-TV (ABC7) shot with Filmic Pro v7: